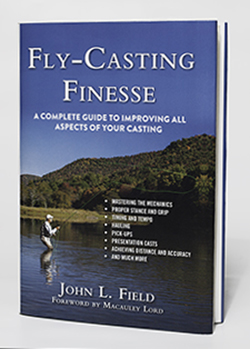 Fly-Casting Finesse
Specifications
Size: 7" x 10", 160 pages- hardcover
Illustration: 66 Color and B & W photographs by Chris Theising, Brian O'Keefe, Tom Lynch, Ken Takata, Edwin Remsburg, Kacie Q Photography and more. 50 rotoscope style line-drawings by the author.
Foreword: by Macauley Lord
Skyhorse Publishing, Inc. NY, NY
Published date- April 21st, 2015
ISBN-13: 978-163220-488-2
Dealers contact Kathryn Mennone
Summary
Fly-Casting Finesse reveals expert John L. Field's secrets of fly-casting based on modern observation, Field's experience as an angler and casting teacher, and his collaboration with international members of casting clubs and schools. Whether the reader is a salt- or freshwater angler, Fly-Casting Finesse will help the caster increase accuracy and distance as well as hone presentation. It runs the gamut from one-hand spey techniques to dealing with wind on the flats.
Although not a complete casting curriculum, the purpose of the book is to help anglers learn how to achieve more and know where to get assistance. Many of the skills at the highest levels of fly-casting require an educated sense of feeling in the rod hand that enables the caster to use finesse and seemingly minimal effort to manipulate the rod and line. The book will guide people down the path of acquiring that magical touch.
According to Field's philosophy, readers should first learn all casting styles and techniques to adapt them for any species and location they encounter, and secondly, they should know the history and purpose of presentation, so they can be innovative in the future. In applying this book to angling, he's not trying to teach the reader how to catch more fish; he's trying to help the reader catch the fish he or she wants.
Show More...
Blurbs
"John Field is an innovative fly caster who has put his heart and soul into his understanding of the art. It's great to see he is ready to share this knowledge." —Joan Salvato Wulff
"If you're planning to go in an area to sight fish, especially on the flats where speed and accuracy are paramount, read and take heed to chapter 4, 'The Saltwater Quick Cast,' and you will make what would have been a pretty good fishing trip into a fantastic trip. Fly-Casting Finesse is not only extremely educational and enlightening on techniques but also is a fast, enjoyable read." —Stu Apte
"John's wish to help teach fly casting, for it to become a beautiful experience, will undoubtedly be helpful to all who read this book's chapters and examine its illustrations. The teachings go well beyond the basics for novice casters, though it is a great piece for those just getting started. The lessons are useful to even the most advanced instructors and will become a reference for all those wishing to improve their abilities, and to identify and correct their faults. Fly-Casting Finesse is a must-have book for those serious about learning about, and improving, their casting. I wish it had been available when I started." —Steve Rajeff
Buy Fly-Casting Finesse at Amazon and Barnes & Noble. Please contact me if you'd like a signed copy.