Fly Fishing Resources
Videos
Everyone can use more videos, tips, suggestions and info. Come back and they will appear. I've got some interesting studies, articles and photos I think will be useful and interesting to some of you. A lot of this information is a by-product of the research I did to help write my 2015 book, Fly-Casting Finesse. I added an additional two hundred books to my library as reference.
Subscribe to my YouTube channel.
---
Tackle
Rod Review- G.Loomis Asquith Fly rods
Shimano International and subsidiary G.Loomis, have just released a revolutionary new line of rods. These rods use Shimano's proprietary Spiral X platform which utilizes a core layer, a longitudinal middle layer, and a reverse-axis fiber outer layer. This saves weight, increases hoop strength and is the first rod without a spine. This is because there is no overlap of graphite pre-preg cloth, as in traditional blanks. This helps a good caster track the rod straighter for better loops and distance. It also helps achieve better accuracy.
I had the pleasure of testing four of these revolutionary one-hand rods and one of the Spey rods. The blanks have a colored metallic dust in the epoxy finish which is quite spectacular. The second thing I noticed was the slimness of the butt taper. The cork is a much higher grade than G.Loomis has used previously and they use exotic wood seat spacers on all models. The company that crafts the wood makes the wood dashes for Lexus automobiles.
When I cast them, they felt lighter and more responsive than any fly rod I've ever cast. The 5wt felt like a 3wt. The loop shapes were different too. They were more wedge-like and very tight with little effort. I tested the 4wt, 5wt, 6wt Spey, 8wt and 10wt rods. Loomis' Senior Rod Designer Steve Rajeff blended the best of the existing trout rod actions to make a perfect "one-rod" in each weight. In other words, they have the stiffness needed for wind and distance and the responsive tip action so you can have feel and tippet protection. These actions lie between the NRX and the NRX LP.
The 8wt and 10wt saltwater rods I tested had similar actions to the NRX but maybe a little bit stiffer and lighter. I would say they cast like the Loomis Crosscurrent GLX but much lighter. They had very fast recovery. The 8wt is the perfect bonefish rod and the 10 is a "perfect ten" for permit. I can't wait to test the rest of these rods and see how they do playing some big fish.
Rod Review- Sexyloops Hot Torpedo 4wt, 6wt & 8wt

I enjoyed casting these new rods on a hot day in Hungary, with Paul Arden, owner of Sexyloops. I've known Paul for about eleven years and he's tough on tackle! Paul has made some serious high performance rods that will stand up to use like his. He's designed these rods very carefully to give them the proper action to cast tight loops into the distance but still protect average tippets associated with their line weights. He admits these rods are on the faster side and with plenty of backbone. The HT4 and 6 are especially suited for fishing nymphs and streamers. The HT6 is also available in white for demonstrations and instruction. The HT8 is designed for distance and strength to overcome wind. It can even be used with a 9wt line. This one brought the biggest smile to my face. The appearance of these rods is first rate with neat wraps and coatings and great components, sparing no expense.

Paul is proud of the ingredients he's selected to make these rods attractive, functional and durable. Sexyloops- "We have our blanks finished in England using the finest components with an absolutely exceptional builder. Hot Torpedo rods feature the best Portugese cork, either H&H rings or REC recoils. Our reel spacer is our own, machined and black anodised in the UK. We use REC reel seat fittings and titanium stripping guides." Visit these rods at the Sexyloops store. You can even get them custom made for no extra cost.

(I'll add more tackle reviews, recommendations and tips with you when I get a break from writing and traveling. So much tackle, so little time. I have an affinity toward creating tackle systems for my own fishing, based on target species, location and conditions. This has increased my capabilities but also filled my house. I try to have a very practical approach to my tackle and especially, fly selection. I'm going to include recipes, instructions and photos of some great flies.)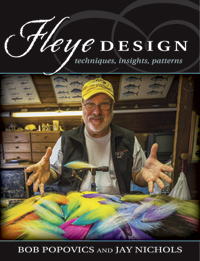 ---
Book Reviews
Fleye Design- Techniques, Insights, Patterns
By authors: Bob Popovics, Jay Nichols
ISBN: 9780811713238
Dimensions: 8.5" x 11"
Pages: 270
Illustrations: 6 illustrations, 600 color photos
Since Bob's first book, Pop Fleyes, appeared fifteen years ago, I've been able to learn how to tie every fly described in it because the explanations and illustrations are that good. The patterns were groundbreaking. At the time, I wasn't living far from Bob and I would see him on Island Beach State Park, or in a friend's boat fishing, so I was using his flies for the same fish and conditions he designed them for. I finally met Bob a few years ago when I asked him for big squid patterns for a squid article I was researching for. I've learned from his problem solving approach and open-mindedness to new materials and ways to assemble them into practical flies.
His newly released book, Fleye Design- techniques, insights, patterns which he co-wrote with Jay Nichols, continues the evolution of Bob's work and includes not only technical innovations but chapters from a whole generation of fly designers his work has influenced. Let me analyze Bob's approach.
Eyes were a key component when he first coined the term Fleyes for Surf Candies and later applied the name to the full range of his creations. He is a believer that shape and movement and cast-ability are the three most important elements in saltwater fly design. He writes, "I am more of a fly designer than a fly dresser." Fleye Design, Pg 78. The fact that he ties almost all his flies with fine mono thread shows the simplicity and practicality of his style.
His first book showcased ways to control the 3 dimensional shape of a fly and it started with his 3D Fleye in synthetic materials and his experimentation progressed to the BTD (Bucktail Deceiver) and the Hollow Fleye. This last one provides maximum volume with minimum weight. This helps solve the problem of casting large overweight flies. He was also the first tier to detail how to tie on mono between two vices to create body extensions. I used it to tie his Shady Lady Squid.
In Fleye Design, he recommends using bucktail, from the North American whitetail deer, for our international readers, wherever practical, because he believes it moves better than any other fiber. He is adamant about using natural fibers because they are tapered. He says tapered materials move better than ones of constant diameter. He also writes, the more (tapered) ends there are on a fly- the better the fly will move. He says realistic fly movement is critical to triggering fish.
In this book, Bob details how to classify bucktails and select the fiber type for specific ties, based on volume. Straight being less and kinky being more volume. I think Bob has found a good supply of five to seven inch bucktail somewhere, which now gives him the option to use bucktail for all his baitfish flies, from spearing to bunker.
In his first book, he broke ground with his Surf Candy which solved two problems, hook-fouling and poor fly durability. The ravages of teeth of bluefish can shred a fly. He did this with the use of clear two-part epoxy applied from the hook eye; over a stick-on eye, to behind the head or gill area.
In his new book, Fleye Design, he discusses his solution to the slowness, eventual yellowing and waste of five-minute epoxy, by updating us with their replacement with light-cured acrylics. This material is used every day for dental fillings and tooth repair. Bob and a dentist friend came up with the idea to use the clear acrylic for flies. He calls it Tuffleye.
This sensation cures in twenty seconds and doesn't require mixing. There is no waste since you apply it right from the manufacturer's syringe. It is clear indefinitely. He didn't just take dental acrylic and re-label it, he has two hardening formulations of different viscosities and one that is flexible when cured! He describes in detail how and when to use each.
Since his first book, he's also advanced the speed of adding flash and detail to a variety of baitfish imitations by introducing Fleye Foils. They are metallic decals with a tab for attaching them the hook. They represent the head or body of several species of coastal baits of the Northwest Atlantic, but will also represent other species abroad. Yes, he has created a brand and products through his ingenuity and fishermen and tiers are the better for it. Everything so far has been first rate.
I am a fan of big baits and his latest creation, The Beast, is about as big as a fly should practically be. It uses the Hollow Fleye technique with an extension. It takes a lot of skill to cast big flies far in any condition, not alone windy ones. Page 101 is titled Casting and contains three paragraphs. Bob's advice on how to learn to cast," Anyone can cast well. It simply takes time and practice." I would have hoped he would have suggested getting qualified instruction, and practicing.
I have the feeling Lefty Kreh and Ed Jaworowski taught or tutored Bob over the years. On Bob's Casting page is also a beautiful photo of the 6'3" author delivering a backcast into the NJ surf. I used a similar photo of Bob full page in my recent casting book, from Tom Lynch's shoot with him the same day. The photos in Fleye Design are sharp and perfectly lighted. Every tying step is shown and clearly described. Part I: The Essentials, has generous details on controlling material and acrylic and placing everything where you want it to go and stay permanently.
Part II: The Patterns, shows at least nine new patterns of Bob's, not shown in his first book. They are the Hollow Fleye, BULKhead Deceiver, Rear Floating Squid, Double Spread, and five assorted Critters. You get to see explanations, photos and tying instructions for sixteen flies. In Part III: Evolution of Flye Design: Influences and Advances, you also get to see the innovative work of other fly designers and guides. They include Jonny King, Blane Chocklett, Dave Skok and others. Every saltwater tier should know about the Popovics school of fly tying.
Bob was inducted into the Freshwater Hall of Fame in 1998 and the Fly Fishing Hall of Fame- Catskill Fly Fishing Center and Museum in 2014. Bob and his wife Alexis own and operate The Shady Rest Restaurant in Bayville, NJ. Bob enjoys growing flowers at the 'Rest and feeding and photographing songbirds, hummingbirds and big moths that stop by!
Review by John Field first published in Sexyloops.com
Show More...
---
Travel
Here is where I'm going to recommend or review angling destinations, agencies, lodges, airlines, guides and pack horses. I will be covering the spring creeks of the Rockies and Europe for trout and grayling and some little-known parts of the Caribbean for flats species. As you may know, I've been following the spring squid run in search of big stripers and I've been keying-in on Nantucket. Let's see how the run is this year.