About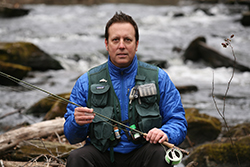 Profession
John L. Field is a fly-casting instructor, writer and photographer.
John provides group and private lessons. He also gives casting demonstrations and multimedia presentations.
Bio
John has spent extensive time exploring the waters of the Northwest Territories in Canada with Canadian Sportfishing Magazine and the Amazonas in Venezuela and elsewhere, while working for Larry Dahlberg Productions. He has decades of experience flats fishing the Florida Keys and striped bass fishing in the Northeast. John also makes regular trips to fish in the Balkans of Europe and the Yellowstone region. He is past-president of the New York City Chapter of Trout Unlimited and past president of the American Casting Association. John is an IFFF Certified Master Casting Instructor and author of the book; Fly-Casting Finesse- A Complete Guide to Improving All Aspects of Your Casting, Skyhorse Publishing, 2014. John's feature articles have been published in Fly Fisherman Magazine and many others and he has contributed to several books by other authors. John filmed and co-produced Hunt for Big Fish, which has aired on ESPN and other cable networks. John and his family live in Weston, Connecticut.
Press