John Field- About
Announcement
Fly Fishers International awarded the Jay Gammel Award for Fly Casting Instruction to me in July, 2019. "This award recognizes individuals who have developed instructional materials that advanced fly casting instruction whether or not they are an FFI member."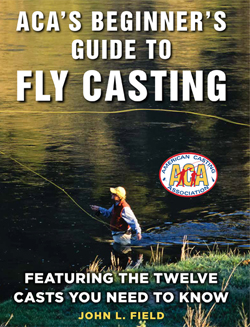 Presentations, Signings & Casting Demonstrations
Croton Watershed Chapter of Trout Unlimited- November 21: Better Casts and Presentation for Trout
Housatonic River Fly Fishermen's Association- Date TBA: Annual Banquet Keynote
Anglers' Club of Philadelphia- March 31st, 2020: Striped Bass presentation
First book: Fly-casting Finesse- Details
Second book: ACA's Beginner's Guide to Fly Casting- Details
First I wrote the advanced book. Now, the beginner's book is available!
Third Book: Trophy Striped Bass on a Fly- Details
Summer 2020 Publication!
Projects
American Casting Association
I submitted my annual report as Chair of the ACA Communications Committee for the ACA Business Meeting held in July. I'm currently creating publicity for the winning US Casting Team and for the new ACA casting book. I'm still sorting and organizing all the photo/audio media from the 1940s to 2000 from ACA's Netherton Archive and Collection. Digitizing and sharing could take me a couple years!
Trout Unlimited
I'm looking forward my casting presentations at the Candlewood Chapter and the Hamonasett Chapter this spring and summer. I'm also pleased to be volunteering for my tenth year for Family Fly-Fishing Day in May with my home chapter, Mianus TU.
Fishing
This fall, I'll be looking for BWO hatches, school bluefin and stripers in the northeast. These tuna trips are for an upcoming article. I'm still taking photos for my upcoming striper book too!