John Field- About
Announcement
Fly Fishers International awarded the Jay Gammel Award for Fly Casting Instruction to me in July, 2019. "This award recognizes individuals who have developed instructional materials that advanced fly casting instruction whether or not they are an FFI member."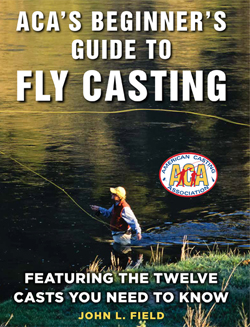 Presentations, Signings & Casting Demonstrations
ASWF- August 13th: Casting Demo and Striped Bass presentation
DVFF- September 25th: Trophy Striped Bass on the Fly presentation
Anglers' Club of Philadelphia- March 31st, 2020: Striped Bass presentation
First book: Fly-casting Finesse- Details
Second book: ACA's Beginner's Guide to Fly Casting- Details
First I wrote the advanced book. Now, the beginner's book is available!
Third Book: Trophy Striped Bass on a Fly- Details
Fall 2019 Publication!
Projects
American Casting Association
I submitted my annual report as Chair of the ACA Communications Committee for the ACA Business Meeting held in July. I'm currently creating publicity for the winning US Casting Team and for the new ACA casting book. I'm still sorting and organizing all the photo/audio media from the 1940s to 2000 from ACA's Netherton Archive and Collection. Digitizing and sharing could take me a couple years!
Trout Unlimited
I'm looking forward my casting presentations at the Candlewood Chapter and the Hamonasett Chapter this spring and summer. I'm also pleased to be volunteering for my tenth year for Family Fly-Fishing Day in May with my home chapter, Mianus TU.
Fishing
This summer, I'll be fly fishing for school bluefin and yellowfin tuna off the NY and NJ coast. This fall I'll be fishing for bluefin tuna on the northern coast of France in the Bay of Biscay! These tuna trips are for an upcoming article. Can't wait!
New Site Colors Taken from GLoomis Fly Rod

The background is cork colored, the main font color is from the anodized reel-seat and the nav buttons and copyright bar are the blank, windings and logo colors. I did this with the use of the Adobe Color CC app and camera on my iPhone. Since I have an Adobe Creative Cloud account, the color swatches appeared in my other Adobe color panels automatically!